FAQs
Check most frequently asked questions here, if you still need help then please contact us at lkcj@theluckylk.com
About LKCJ
Of course we are legit.
LKCJ is a company specializing in selling toy guns and was established in 2020. We are dedicated to providing our customers around the world with a high quality and diverse selection of toy guns. As an experienced online retailer, we understand our customers' needs and expectations for toy gun products and constantly strive to fulfill them.
Our mission is to provide the best shopping experience for our customers. Our team has a wealth of industry knowledge and skills and is committed to providing you with the best customer service. We are confident that through our efforts, you will find a toy gun product in our store that meets your needs.
In addition to offering a wide range of toy guns, we are also concerned with product quality and safety. All of our products undergo strict quality control and testing to ensure that they meet international safety standards. We only source our products from reliable suppliers to ensure the quality and safety of our products.
In addition, we are committed to offering the best prices. We work closely with our suppliers to reduce costs and offer you the most competitive prices. We are confident that you will be able to find both affordable and quality toy gun products in our store.
Most of our products are packaged in customized, high quality boxes and the bottoms of the boxes are wrapped in a double layer of foam to ensure that the package arrives safely. As shown in the picture: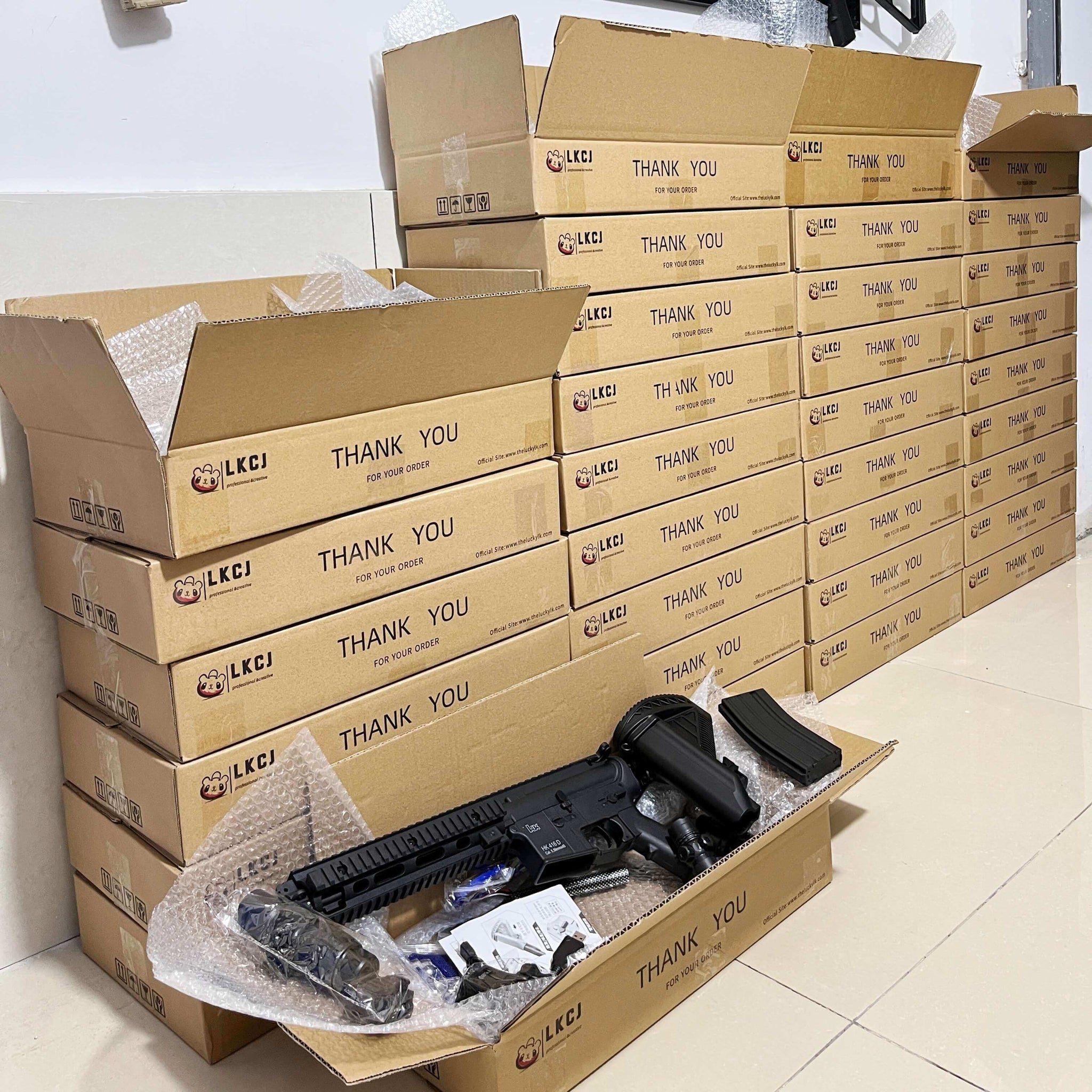 We have over 1 million followers on both Tiktok and Youtube, and our products are liked by many customers. You can find our main accounts here:
Tiktok:@lktoystore4
Youtube:@LKCJ-Toys
If you have any other questions, please feel free to contact our customer service team at:lkcj@theluckylk.com
About Gel Blaster
Notes for Newcomers
1.The gel balls must be soaked in water for more than 5 hours to make it reach large enough. The most suitable size of gel balls for gel blaster is around 7.15mm-7.2mm. Some gel blasters require higher size of gel balls, if the gel balls you use are too small, it may cause the gun to have a short range or even not be able to fire. Different regions have different water quality, when you use water with more impurities, the soaked gel balls may be on the small side, at this time you can try to use pure water to soak the gel balls, the pure incoming water soaked gel balls will be bigger.
2.Try to strain the water before loading gel balls into the magazines.
3.When connecting the battery to the gel blaster, please be careful to identify the direction of the usb data cable pins, the wrong direction may cause the battery to burn out.
4.Fully charge the battery before using the gel blaster, and be sure to pull the battery out when you're not using it, or it will affect the life of the gel blaster.
5.Distinct from the way real guns are loaded, the gel blaser will have an extra loading port on the magazine. Please use the correct loading port when loading.
6.When you use your gel blaster outdoors, be sure to assemble orang-tip on your gel blaster.
Many accessories to decorate and enhance your gel blaster can be purchased in our store's accessories collection, link here:
https://theluckylk.com/collections/toy-gun-attachments
The Electric Auto Sifter and Hop-up can make the adult model gel blaster shoot farther and have a straighter trajectory. A more powerful battery allows the gel blaster to shoot faster and with more power. Also available here are metal sights, grips, and many functional accessories.
Since there are strict customs restrictions on the length and weight of packages when shipping toy guns, we have had to break them up when shipping some of our overweight and over-length toy guns. Some toy gun stock will be removed, when you don't know how to install it, please refer to this video tutorial:
Here's a video tutorial for installing the stock, they are different guns but installed the same way:https://youtu.be/GnQWRnGpPJw
About security
Yes. We take the utmost care with the information that you provide us when placing an order through our online store (or through any other means).
The server that hosts our store encrypts the transmission of all credit card and personal customer information using the Internet-standard SSL (Secure Sockets Layer) protocol.
To ensure a safe payment procedure, our website uses credit card processor for a reliable and secure internet payment gateway, keeping all data encrypted with AES-256.
Payments
Our payment is officially supported by shopify payment, which supports shop pay, apple pay, Google pay and multiple credit cards.We can not receive the Cash.
Shipping
Please allow 2 business days of processing and production time for your order to ship out. The tracking number will be sent to the email address where you registered your account. General goods take 1-2 weeks and 2-3 weeks for toy guns.Usually our products are shipped free of charge, but there are some countries that cannot be shipped through normal logistics, so a shipping fee may be charged.
1. From our warehouse to the distribution center
2. Code scanning and distribution by the staff of the distribution center
3. Customs clearance
4. Go to the airport and wait for air transportation
5. Air transportation to the your country
6. Customs Clearance
7. Local courier companies delivers to you (For example, the United States is USPS)
The whole process takes 10-20 days
You will receive an email confirmation containing the Order Number and details of your purchase.
Returns
Amending your order is allowed on or before 11:00pm (PDT.-7 GMT) on the same day from the order being placed.You may contact us via lkcj@theluckylk.com to request for change.
We have a 30-day return policy, which means you have 30 days after receiving your item to request a return.

To be eligible for a return, your item must be in the same condition that you received it, unworn or unused, with tags, and in its original packaging. You'll also need the receipt or proof of purchase.

To start a return, you can contact us at lkcj@theluckylk.com. If your return is accepted, we'll send you a return shipping address, as well as instructions on how and where to send your package. Items sent back to us without first requesting a return will not be accepted.